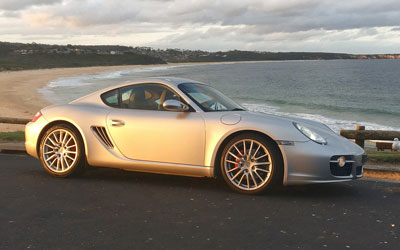 Get a sportier sound from your stock 987 Cayman S exhaust system and save lots of cash!
After I purchased my Cayman S I quickly become dissatisfied with the factory exhaust tone.
After visiting forums I found that many Cayman S owners are the same. I really like the engineering and design that's gone into the factory system, from it's beautiful shape to the lovely muffler hanging system. I even like the S exhaust tip.
If like me you want to keep the factory system that sounds sportier without any drone in the cabin. You don't want to send your mufflers overseas and pay the US exchange rates and freight costs.
and you don't want to install an after-market system that could be ill-fitting or ridiculous money, this could be the answer.
Please check the "before and after" sound on this video
Our service to Australian enthusiasts delivers value-for-money and convenience.
Step 1: Order online securely on this page
Step 2: We will send you the address in Sydney to send or deliver your mufflers to.
Step 3: Within one week we modify your mufflers inside to sound like the example on the video and send them back.
(shipping cost is calculated online, before you commit)
Turnaround Time: About 1 week from when we receive your mufflers.
(exchange service not yet available)
987 Boxter muffler tuning service coming soon. Any questions, please call 02 9453 9199 or email us