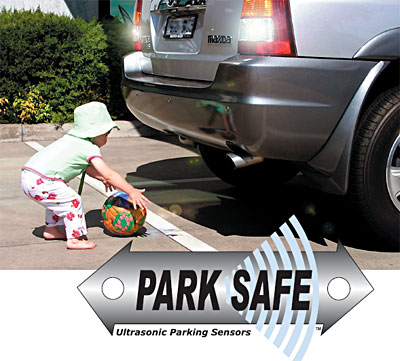 Premium 4 Sensor REAR Kit with Adjustable Tone Buzzer.
Automotive Burg Design is Australia's parking sensor specialists with 18 Years experience.
Kit includes :
Installation Guide
4 Black Paintable Plastic 19.5mm Microflush Sensor Heads
Data Box, Leads, and an Adjustable Tone Buzzer
4 Stage Wide Angle Detection = 0.3 - 1.6 Metre.
Object Recognition Mode.
New generation software
Advanced Diagnostics

NOTE : The Parksafe R1 Parking Sensor systems have two modes, Standard Mode and Object Recognition Mode.
If a Tow Bar tongue and ball are left on the vehicle when not towing the Ultrasonic Reverse Parking System may in some cases "see the Tow Bar", and thus cause the Buzzer to activate when the vehicle is in reverse gear. It is recommended to have the R1 Object Recognition Mode activated upon installation of the Parksafe System.
The R1 Object Recognition Mode is activated by the installer. During the system diagnostic analysis at start up (when reverse gear is engaged), the system will search for objects within 30cm from the rear bumper. Any objects detected in this area are measured; their position(s) are plotted and stored into the processors memory. The processor then ignores these plotted points as long as the distance remains constant between the bumper and the object. Should the distance change on any or all of the objects retained in memory, the processor recognizes this and immediately alerts the driver that something is there. The system re-scans for objects every time the driver selects reverse gear. click here to download full details
All Parksafe REAR Sensor Kits use state of the art electronic and have a Unique 4 Zone, Wide Angle Detection Area.
Our systems are supplied to leading OEM Vehicle Manufacturers and Importers world wide. PARKSAFE Sensors are available for the FRONT and REAR of most vehicles so that you're protected whether you are coming or going!
Systems can be installed on most vehicles within 2 hours, enquire today and take the stress out of parking your vehicle.
( Note : Price does not include installation or painting of Sensor Heads ).
( Note : Plastic Sensor Heads are NOT suitable for Metal Bumper Bars so we offer a range of rubber heads to suit Metal Bumper applications ).