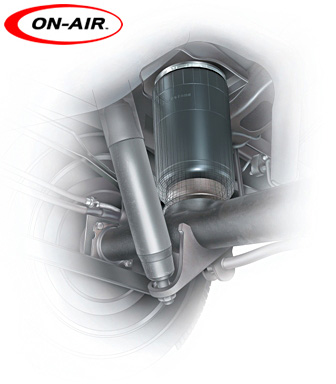 Air Bag Suspension to Replace Coil Springs

Airbag Man On-Air is full air suspension applied to vehicles with coil spring suspension. The coil springs are removed totally and are replaced with airbags. The airbags are heavy duty two ply, reinforced Firestone rubber rolling sleeves, the same construction as used on heavy duty trucks and buses. You can adjust for varying loads and road conditions by simply inflating or deflating, just like inflating a tyre.
All fitting hardware supplied in the kit. click here to view
At a Glance
On-Air airbags provide a superior, adjustable full air suspension for most vans, utes, 4WD's, and SUV's. Airbags are used for front-to-rear and side-to-side levelling control of a vehicle. This enables a vehicle to "level up" when towing caravans, boats and trailers or when a vehicle or truck is carrying heavy, uneven loads - providing full adjustability for off-road or passenger loading.
Features & Benefits: Ride-Rite airbags will: * Maintain a level vehicle - adjustable * Maximise the safe load carrying capacity * Increase vehicle stability * Improve steering and balance * Improve ride quality Greatly reduce "bottoming out" * Reduce coil suspension fatigue * Keep headlights aimed on the road * Reduce tyre wear
Check which Price Group to use for your model by clicking here now

Delivery: Usually 5-7 working days anywhere in Australia