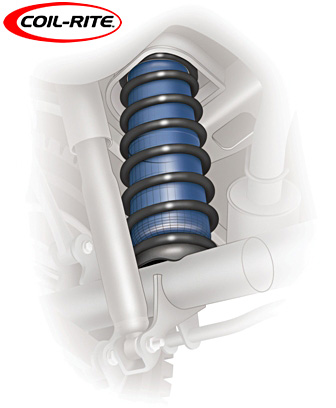 Air Bag Helper for Coil Springs vehicles

Airbag Man Coil-Rite airbags are designed to fit inside existing coil springs to provide levelling control to a vehicle when under load.
These Firestone airbags are made of durable polyurethane, providing years of comfort and stability to a vehicle. You can adjust for varying loads and road conditions by simply inflating or deflating, just like inflating a tyre.
All fitting hardware supplied in the kit. click here to view
At a Glance
Firestone Coil-Rite airbags provide extra support for front and rear coil springs in cars, vans, 4WD's, SUV's and motorhomes. Airbags are used for front-to-rear and side-to-side levelling control of a vehicle. This enables a vehicle to "level up" when towing caravans, boats and trailers or when a vehicle is carrying heavy, uneven loads.
Features & Benefits: - * Maintain a level vehicle - adjustable * Maximise the safe load carrying capacity * Increase vehicle stability * Improve steering and balance * Improve ride quality Greatly reduce "bottoming out" * Reduce coil suspension fatigue * Keep headlights aimed on the road * Reduce tyre wear
Check which Price Group to use for your model by clicking here now

Delivery: Usually 5-7 working days anywhere in Australia