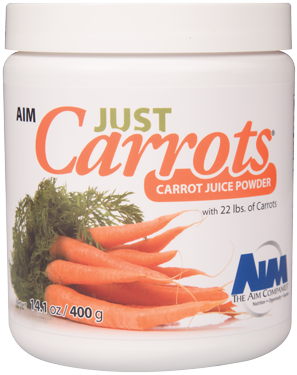 Only $10.50 p&h for any size order!
(We deliver within Australia only)
Just Carrots 400 g powder It is well established that carrots are a healthy food. They contain important nutrients such as alpha- and beta-carotene, vitamins B and C, plus calcium, iron, and potassium. With its natural form of beta-carotene, AIM Just Carrots® can be a strong foundation for your good health. The body changes beta-carotene into a natural source of vitamin A, which is essential for strengthening the immune system and promoting healthy cell growth. Just Carrots is 100 percent natural, with no added sugar.
Special nutrition for the eyes and skin
Powerful antioxidant Prevents cell damage
Helpful as a dietary supplement for those concerned with age-related diseases