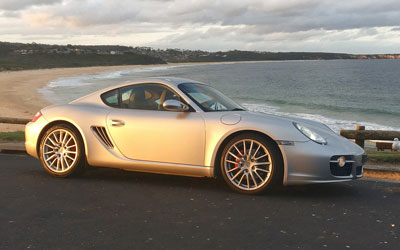 Get a sportier sound from your stock 987 Cayman S exhaust system and save lots of cash!
After I purchased my Cayman S, I thought the factory exhaust tone is too quiet!
After visiting forums I found that many Cayman S owners think the same. I really like the engineering and design that's gone into the factory system, from it's beautiful shape to the lovely muffler hanging system. I even like the exhaust tips.
If you want to keep the factory system but prefer a sportier sound without any drone (resonance) in the cabin. If you don't want to send your mufflers overseas and pay the US exchange rates and freight costs and you don't want to install an after-market system that could be ill-fitting, too much drone (resonance) or ridiculously expensive, let us help.
This video shows exhaust sound comparison of Stock, Mild and Loud. (a louder raspier sound can also be achieved at customer's request) The two options here both offer a tastefully sporty sound and better gas flow without drone!
In order you will hear: Cold Start, Warm Rev Up and Drive Away of all three. Modifications comply with (Australian Design Rule 79/01)
Our service to Australian customers delivers value-for-money and convenience.
Step 1: Order online securely on this page
Step 2: We will send you the address to send or deliver your mufflers to.
Step 3: Within one week we rework your mufflers inside after you choose the sound you prefer.
Step 4: We return the mufflers
(return shipping cost is calculated online, before you commit but will not be charged if you pick them up)
*We are located in Sydney North.
Turnaround Time: About 1 week from when we receive your mufflers.
(exchange service not yet available)
Any questions, please call 02 9453 9199 or email us